Super easy to set up and doesn't require any technical skills.
Once set, you can have up to five toys connected at the same time! So, its pretty simple.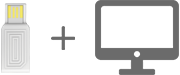 Compatible With:
Lovense USB Bluetooth Adapter is customised exclusively to connect Lovense toys to a Windows PC.
Note: Lovense toys cannot be connected by other generic Bluetooth dongles.
What's included:
USB Bluetooth Adapter and Might come in different colours.